The Texas Aquaponic and TransFarming Center
a clean food learning resource for Texans
The Texas Aquaponic and Transfarming Center is a learning resource for growing food in a clean, sustainable fashion. The Center teaches the incredible approaches of Aquaponics and TransFarming which include water conservation and retention, as well as the approaches of backup and redundancy, for sustainable gardening in the Texas heat and cold. The publications below were written by the Center and have repeatedly proven over time to be the best methods for maximum backyard food production.
Why an Aquaponic Book just for Texas?

Texas presents a number of challenges to Aquaponics due to the tendency for weather to change so quickly, and often severely. When it is not changing rapidly, there are sometimes long periods of excessive heat or cold. These two factors alone can wreak havoc on an Aquaponic system.

While all of the principles outlined in this guide are true anywhere for Aquaponics, this publication is geared specifically to Texas. Whenever there is a subject that is relevant to our area, a red Texas logo will be displayed in the margin. This will alert you to a situation that may arise for a reason particular to Texas.

We at the Center operate many Aquaponic systems, each designed intentionally different to learn all we can about operating Aquaponics successfully in Texas. We have been through just about every Aquaponic challenge possible, and discovered many creative ways to handle each "opportunity".

Learn from our experience and solutions. We are certain it will save you lots of time, effort, and money.
True Food Growing Sustainability
with TransFarming

TransFarming is about "re-thinking" traditional gardening methods to address the challenges of sustainably growing our own clean food despite a persistent water crisis here in Texas.

TransFarming techniques utilize two approaches to minimize water use – water conservation and water retention. Water conservation includes housing large amounts of water in a way that uses the minimal amount required to grow food and may include Wicking beds and Aquaponic systems. Another approach is using the properties of decomposition to retain water. Decaying organic matter such as logs, branches, and leaves absorb water and during dry conditions, release it along with nutrients and may include a HugelKulture, Tank garden, or Keyhole garden.

Building each of these components is described in detail in the Texas TransFarming Guide. All you need to get started growing clean food sustainably.
The Texas TransFarming Builder Series


These publications are a series of the TransFarming e-books that build upon each other. They are designed to give you specific instructions on building each component of a TransFarming system. Each e-book in the series is $7.95.

All proceeds will be used to directly support the many educational food production endeavors in which we strive.

Thanks for your support.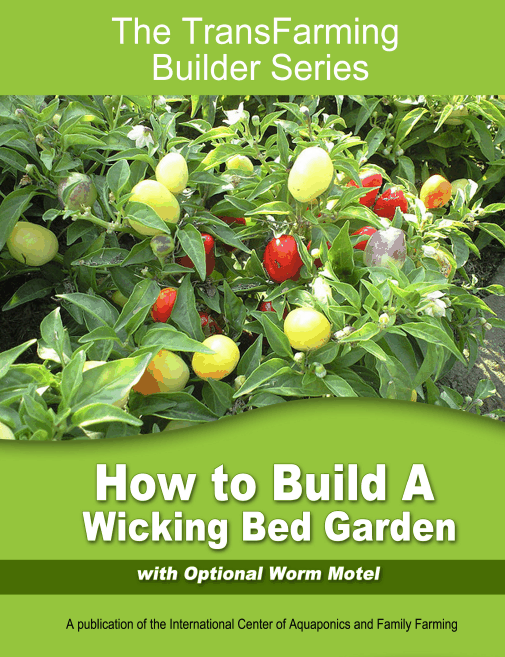 Clean Food Growing Resources
from Around Texas
(FREE DOWNLOADS)
The International Center of Aquaponics and Family Farming